ARLITY PLATFORM
ARLITY platform is a complete ecosystem of tools for managing products and their configuration, available in the cloud. Part of the platform is a mobile app for the presentation of products in the environment chosen by the customer – using augmented reality. Solutions available on ARLITY Platform increase sales. How?
They visualize the product in the environment in which it will be used, eliminating the need to create prototypes. Thanks to the platform, customer can optimize production processes, which translates into lower costs. In addition, Arlity significantly shortens the decision-making process on the client's side. ARLITY is an excellent tool for an effective marketing department.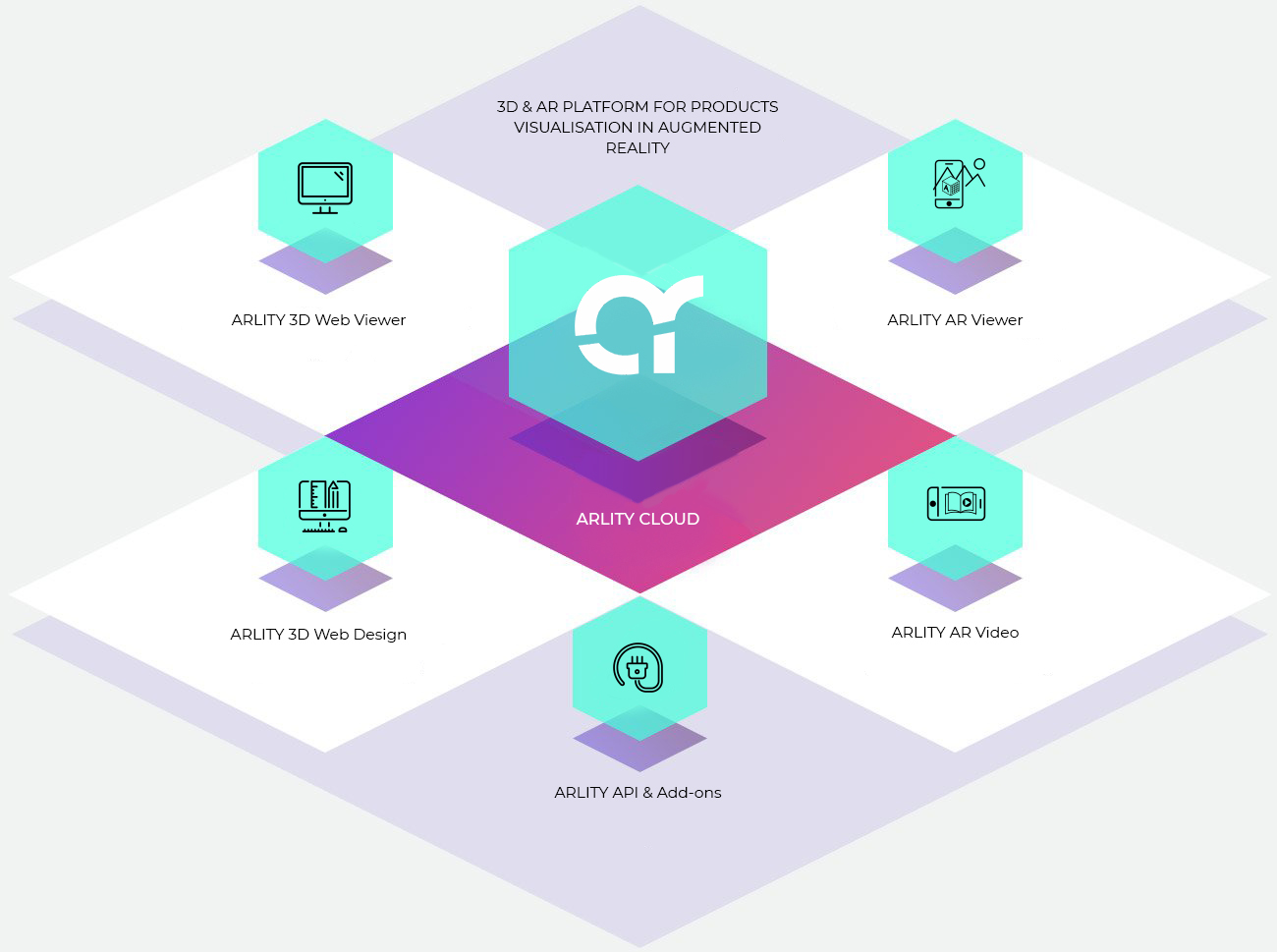 3D products visualization
ARLITY 3D WebViewer enables visualization and configuration of products in 3D in a web browser. The system does not require installation of additional software on the user's computer. The platform can function as part of a company website, product catalog or as a plugin for an online store. ARLITY 3D WebDesign allows you to personalize products and manage space using an integrated graphic editor.
visualization of products in Augmented Reality
ARLITY AR is an innovative technology that allows you to connect the real world with computer generated 3D images. Thanks to mobile apps available on iOS and Android, it is possible to present virtual products in real space.
The products are downloaded from ARLITY Cloud and are transferred – in real size – directly to the place where the customer is located.
multimedia and video in Augmented Reality
ARLITY Video allows You to put virtual content such as videos, music, and animations on products such as labels, catalogs, packages, company directories, and leaflets. Using the camera of the mobile device, ARLITY Video reads the content and plays videos, streams music, etc from the ARLITY Cloud directly on the scanned object. It does not require any additional QR codes.
Implementation of ARLITY Technology
We base on the latest technologies





Stay up-to-date with ARLITY!